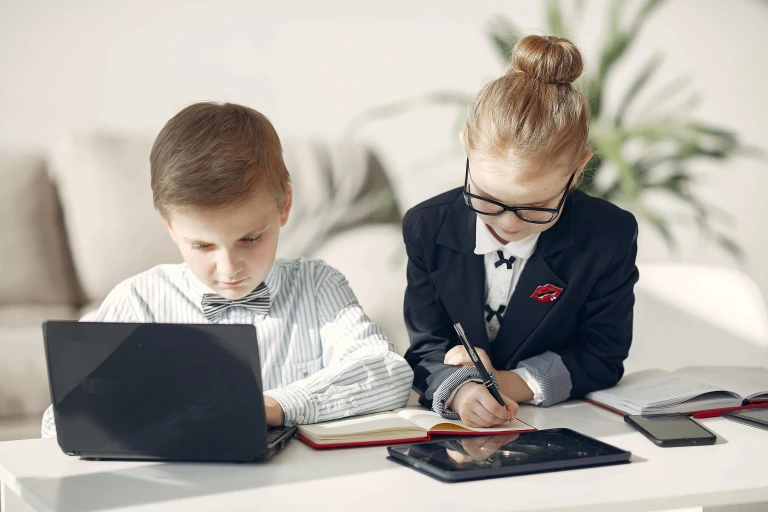 Blog
What are the best programming languages for kids?
---
Learning how to code has become very popular these days, but not all kids want to become programmers in the future. In early stages of development, programming is used to stimulate intellectual progress. In this article, we will introduce the best coding languages for children.
Most popular programming languages - is it beneficial to know them?
In almost every part of our lives, technology has an impact. We are surrounded by programs, apps, graphics and animations. In today's world, when civilizational progress is greater than ever, learning IT skills is not just an option, but a must. We should make it easy for younger generations because computer work will almost certainly be a part of their future professions.
Should kids be learning coding?
The list of advantages is very extensive. Children should definitely learn to code. It may provide students with skill and abilities that are essential for their future employment, but the significance of this goes well beyond that. Learning a new language is all that programming entails. To master it, you will need some intellectual effort, as well as the ability to think logically. To achieve your goal you need to be able to join parts of the code together all by yourself. Because there are so many algorithms and combinations to choose from, this can be quite difficult at times. Precision, creativity, patience, and imagination are qualities that your children will develop as they complete increasingly complicated tasks.
Benefits of programming:
gaining analytical skills,
solving problems creatively,
imaginative thinking,
increased productivity,
being more persistent and patient,
improving self-confidence,
learning other subjects more effectively,
gaining IT skills necessary for future careers.
What's the best programming language for kids?
Choosing the correct programming language is crucial at the beginning of programming journey. To ensure successful learning, your child will need to start accumulating quite technical knowledge and we must make this process as simple as possible. Child needs to be interested, curious and involved in the project, otherwise they may not make the progress we expect. What matters is an engaging, colorful interface, a simple method of delivering information and the quality of knowledge. We'll go through a few of the most popular programming tools for kids aged 7 to 13.
Scratch - is it worth knowing?
Scratch was created for children aged 7 to 16, and it is undoubtedly the most popular of all. It is effective because of its intuitive interface and block-shape code. It helps children in recognizing individual elements of code and make it easier to understand, especially at the beginning. It's a good idea to start with Scratch because even beginners are able to program their first project, which increases motivation for further learning. Scratch can provide much more than just a user-friendly interface. Its most significant advantage is the ability to create interesting, colorful games, animations and pictures which brings a lot of enjoyment to all children.
Scratch online courses
We have large selection of Scratch courses. One course is usually 14 meetings and one meeting is 2x 45 minutes. You will receive a certificate at the end of each course as a recognition of the completion. We invite you to check our full selection of different programming courses.
What's more to know?
Scratch is also known for its online community, which boasts over 16 million users around the world! Website allows you to share opinions, ideas and to motivate and inspire one another. To become a member of that community, you need to be pleasant, friendly and polite to other members.
Blockly
Blocky is quite similar to Scratch but it was created by Google. It's also based on block-shaped code but it also incorporates elements of other programming languages. It's also known as the JavaScript library for visual programming. It's a great tool for children aged 8 and up.
Python
This language is little different from the previous two. It's much more complex, but still doable for children. With Python, they can code on a much higher level, and it's also a great starting point for more advanced and complicated programming tools. Using Python can be entertaining and engaging for youngsters since it provides them an idea on how it's like to program professionally. Python is a prerequisite for working with more advanced software.
We have a great choice for all Python beginners - the course is designed just for children aged 10 to 12. It's the most effective method to master this universal programming language. Minecraft, on the other hand, is the most popular computer game of the past decade. Combining the two is a great solution to bring some educational value to your child's free time. Please visit our website to learn more information about our selection.
JavaScript
Another programming language that deserves to be mentioned. It has been used to create Google Chrome, Mozilla Firefox or Internet Explorer. It allows you to convert some internet documents into interactive applications.
Other popular programming languages are LUA, LOGO, Robo Logic, Cargo Bot, Algoid, Light-bot or KTurtle.
FAQ:
1. What's the most popular programming language for kids?
Scratch. It allows learning visual coding from the basics. To make merging easier, parts of the code are in block form.
2. How to teach your kids Scratch?
We recommend our online courses, which typically last 14 weeks.
3. How to persuade your kid to learn programming and robotics?
It depends on each child but it's usually helpful to show them one of the Scratch-based games. Those games are usually entertaining and simple to learn.
---
Similar articles
The first programming language was created in the '50s. Over time, more advanced programming environments appeared, and new technologies...
Read more
The positive and negative effects of video games on children's development have been widely debated in recent years. There were numerous...
Read more