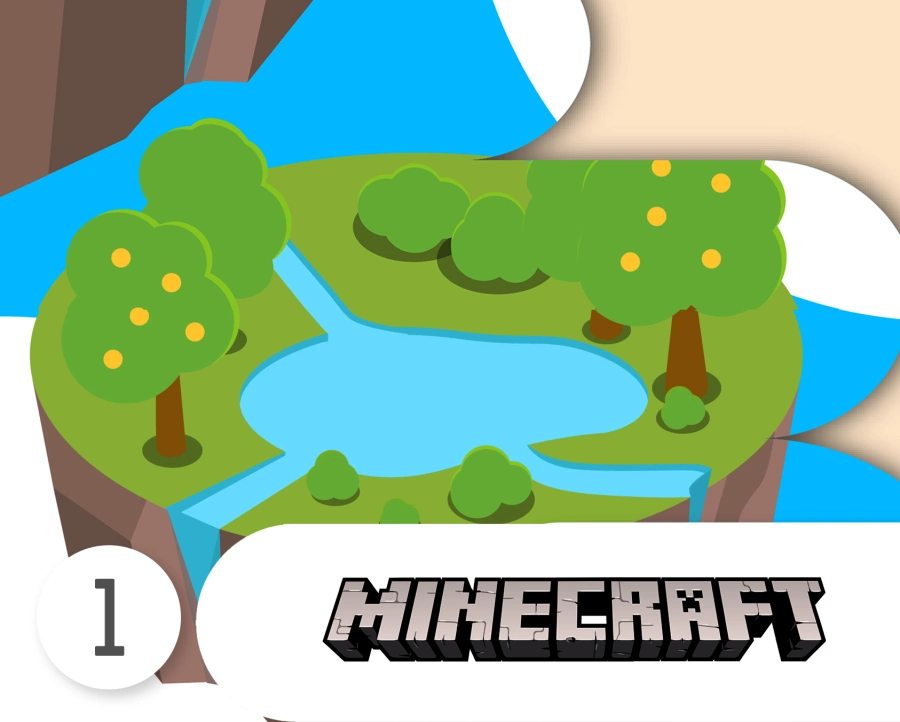 Adventures with coding (Advanced Minecraft) ONLINE- Copy
Recommended for students who have completed the second semester of the Basics of game development course or who know Scratch at an intermediate level.
We are on our way to the Minecraft world. It's high time to show students how to connect education with that fantastic game. By learning about various programming concepts, rules of creating mods and animations, we will put things unattainable in Minecraft within our reach (pickaxe to be exact).
Intro
Minecraft "Adventures with Coding" is a continuation of the Basics of Game Development course. During the course, students will learn how to edit and modify Minecraft games using different coding languages, applications and programs. Through the use of innovative teaching methods, students learn the secrets of creating games while having fun. Upon completion of the course each participant receives a certificate of participation. Our online classes are NOT a webinar or a Youtube course! During our online classes each student will see the teacher's screen, hear what he or she is saying and the teacher will have an insight into what the student is doing and saying (he or she will see each student's screen). Each student will be able to ask a question by voice, the teacher will be able to answer every question and indicate exactly where the error is and how to fix it.
Plan of the course
We start a completely new adventure. You probably know that Minecraft is one of the the most popular games in the world, however did you know that during the course we will go edit it any way? Great, right? We will prove ourselves as modders - creators of game mods.
We must move as quietly as possible. Do you hear these sounds? They are hiding somewhere behind the trees hordes of zombies. We have to prepare for a possible attack! It will certainly be useful to us good armor, sword and a lot of provisions.
Alarm! Alarm! We have disturbing news for all living organisms. Zombies found allies in the form of Drowners and Hounds. They come in waves. Let's try design protective mechanisms for our character.
Take on the role of a Gladiator and fight hordes of enemies. How long will you be able to survive? Let's see. Creeper, Zombies and other characters are waiting for you.
Even more opponents are waiting for you. Moreover, we are concerned that someone else has called more powerful creatures. We must be very careful. Survive in the arena as long as possible.
A disaster! Aquaman turned to us for help - all oceans dried up and Aquaman it needs a place where sea creatures can live. Let's help together superhero. In the future, when we need Aquaman's help, I will will repay you.
We've just arrived at the Witch's Hut. There is a large glass ball on her table. In the area soft Zombie grunts and Endermans snort are heard. Today with help we will look into the past and remember what happened during our entire Minecraft adventure. Everything is ready? We begin.
A mod creator is a player who never gets enough new elements in game world. Are you also missing something in Minecraft? Together we will make a sword of Giants - an ancient artifact found somewhere on the mountain tops.
Today we are not going to edit one item but the whole world. We will change the atmosphere we will add new characters - things will happen. I don't know if you can see but black clouds are gathering on the horizon. I wonder what it is?
The black clouds are approaching. In a moment the whole world will be shrouded in darkness. Can you survive?
Designing games is not only about creating them, but all kinds of topics related to creation plots, 3D graphics, animations. Today we will create one of these animations. Sit in front of the computer and become the director of a Minecraft movie for a moment.
Another day of struggle with animations. Each animation has to be there before it sees the light of day meticulously checked. Today we will work on the details of our animation and we will learn how to publish it.
It's high time to use your knowledge of animations and create a project from scratch. Become a director, screenwriter, costume designer and sound designer. Get Hollywood Today!
You wonder what awaits you next year. Today we are serving a foretaste of what for We have prepared you - creating an application for the phone. Grab your smartphone in your hand and we go!
Satisfaction Guaranteed!
It is possible to cancel a purchase after the first class!
Let us know if you have more questions!